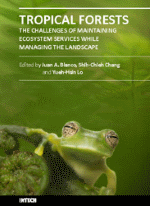 Analyzing the contribution of Cameroon's council forests to socio-economic development and climate change mitigation.
Year of publication: 2016
Authors: Alemagi, D.; Duguma, L.A.; Minang, P.A.; Ngum, F.; Yemefack, M.; Tchoundjeu, Z.
Abstract
Council forests were officially enacted in Cameroon in 1994 as part of the forestry law reform. The law provided rural councils with the legal right to create their own forests estate within the Permanent Forest Estate (PFE) of the State, following the preparation of a management plan approved by the forest administration. In this chapter, we analyze the socioeconomic and climate change mitigation potentials of these forests and propose possible options for improving their socioeconomic importance as well as their ability to mitigate climate change. Results indicate that Cameroon's council forests provide socioeconomic opportunities to communities in which they are located including employment and revenue from the sale of timber and nontimber forest products emanating from these forests. Additionally, given their diversity in terms of the various forest types (e.g., humid dense evergreen forests, humid dense semideciduous forests, and gallery forests), these forests have enormous carbon stocks which can provide huge opportunities for international climate initiatives such as the REDD+ mechanism to be initiated within them as a potential for mitigating global climate change. The chapter identifies and discusses possible options for improving the socioeconomic and climate change mitigation potential of these forests. Progress on the options the chapter opines, will help in improving the contributions of these forests to socioeconomic development and climate change mitigation.
Keywords
council forests
forestry law reform
socio-economic importance
climate change mitigation potentials
options and scenarios