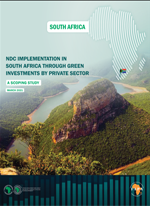 NDC implementation in South Africa through green investments by private sector – A Scoping Study
Year of Publication: 2021
Authors: Kalame Fobissie and Brian Mantlana
Abstract
Context and objective
The South African government remains committed to implement its NDC adaptation and mitigation commitments under the Paris Climate Agreement. The government sees the private sector as a very important partner in the NDC implementation process. The objectives of this scoping study are therefore to assess private sector challenges and opportunities as well as the needed support in accessing green financing for NDC implementation in South Africa. This study focuses on seven key sectors that include: climate-smart agribusiness and forestry, sustainable transport, green buildings and smart cities, renewable energy (RE) and energy efficiency (EE), waste management, water and irrigation and the financial sectors.
Private sector and climate finance landscape for NDC implementation
South Africa has a very diverse private sector, which is one of the most developed in Africa. A number of NDC-aligned projects are under implementation by large private companies and are financed by dedicated climate change funds (from GCF, CTF, GEF, DBSA, AfDB). Few initiatives target the direct involvement of SMEs in green investments. For example, the cleantech innovation program that supports SMEs and start-ups working on green solutions in the energy, building, waste management and water sectors. While significantly more climate finance is needed to implement South Africa's NDC, so far, the country has mobilised climate finance more than any other country in the continent with the exception of Morocco. Moreover, the National Business Initiative (NBI) provides a platform for the private sector and businesses in South Africa to build their capacity and engage in green investments and sustainable growth in the areas of climate change, energy and water.
Cross-cutting challenges for private sector involvement in NDC implementation
South African private sector faces several sectoral and cross-cutting challenges in the implementation of NDC-aligned actions. The specific challenges across the seven sectors are related to:
Insufficient access to climate funds: a vast majority of South African large businesses and SMEs have had little success in directly or indirectly accessing dedicated climate funds and concessional green loans.
Insufficient policy guidance for private company's climate response efforts: The government has made progress to define its adaptation and mitigation strategies. However, the private sector needs more clarity on specific sectoral laws, regulations and policies.
Increasing focus on COVID-19 and decreasing focus on green projects: While some NDC and green projects are currently being implemented in South Africa, the negative impact of the COVID-19 in 2020 on South Africa has obliged the government to temporarily shift its priorities towards the post-Covid recovery with a strong focus on the health sector.
Weak business case for green investment in adaptation projects: South Africa like many other African countries, finds it challenging to make a good business case for adaptation. This makes it dif ficult to attract private investment in adaptation projects.•Skills and capacity constraints: There are generally issues with the limited private sector knowledge on climate change, limited technical capacity of implementation partners, and shortages of project development skills specific for green projects.
Overwhelming focus on energy: There are far fewer non-energy related low carbon projects in South Africa. While it is justifiable to increase access to energy in order to run the economy, more attention should be paid to other areas with "low carbon" potential especially in sustainable transportation, green cities, waste management and climate-smart agribusinesses and forestry
Additional challenges facing SMEs: SMEs face additional challenges such as constraints related touse of appropriate clean technology and access to green line of credits.
Cross-cutting long-term strategic opportunities for private sector involvement in NDC The Government of South Africa's long-term strategic opportunity for NDC implementation is presented in two climate policy strategy documents:
The National Climate Change Adaptation Strategy (2019) – a national blueprint on climate resilient actions across different sectors.
South Africa's Low Emission development (LED) Strategy (2020) – a national roadmap for greenhouse gas emission reduction up to 2050.
Closely aligned to the two strategies is the Presidential Climate Change Coordinating Commission (PCCCC) that is responsible for exploring opportunities for new upstream and downstream green jobs, green industries and climate resilience interventions. The participation and contribution of large businesses and SMEs is a key determinant of success.
Cross-cutting Recommendation
Pursue a "Build Back Better" post-COVID approach that promotes green investments: COVID emergency measures in the short term should focus on stopping the spread of the virus while medium and long-term COVID recovery plans should reduce regulatory obstacles to support inclusive green growth. COVID recovery funds should support innovation in green technologies and green businesses in the transport, agriculture, forestry, waste, energy, water and construction sectors.
Moving forward
The revision and implementation of South Africa's NDC provide a unique opportunity for the government to work closely with large private companies and SMEs to address cross-cutting and sectoral challenges and boost green investments and green jobs. The process of engagement with the private sector should be coordinated, long-term, sector specific, disaggregated to micro, small, medium and large private sector actors. To strengthen the contribution of the private sector in NDC implementation, the government should see green investments by the private sector from a business perspective and not only from the environmental and development perspectives.